---
best gig of my life
I had heard rumours of a Cream reunion in the middle of 2004, Johnie Walker on BBC radio2 had mentioned it and on December 17th the official announcment was made on Johnies show by Eric Clapton! I later learned that they were to do 4 concerts at the Royal Albert Hall in May (the scene of there last concert on November 26th 1968) and although Cream produced only four original albums before disbanding in late 1968, they were hailed as the 1st "supergroup" .
Tickets were to go on sale in the new year.
I had heard again that, as expexted the big ticket agencies had snapped up 80% of the tickets before the day but there were about 2000 due for sale on January 31st, As the day drew closer I was very apprehensive as to whether I could aquire any but at 09.00 my phone and internet were connected to the website and hotline no, as the hours wore on my hopes became less and less and by 1pm when I finally got through all the tickets had been sold. I was really down for a long time after, as Cream had always been "top of the tree" and Ginger Baker without doubt the greatest drummer in the world.
Looking at tickets on E Bay the price was way out of my league, even at this early stage they were reaching upto £500/700 each. As the weeks went by I cheered up a little but still had a peek on E Bay (over £1000 now). Sue had been talking to Jan (my sister-in-law) about the concerts (behind my back). Jan lives just outside London but worked at the Royal Festival Hall as the Banqueting Manager for many years and has lots of contacts "in the know" As my birthday approached at the end of April, a phone call from Janice sent me into orbit! She had "aquired" 3 tickets for the last night May 6th!!! How did I feel absolutely bloody ecstatic.
Luckily I only had 3 weeks to wait but as the day approached my excitment grew and grew.
We left home early on the Friday morning and made our way to Jans in Eton,she had been working so we arrived virtually at the same time, I was over the moon by now and running round like a kid with a new toy. We drove to the tube station and boarded the train to South Kensington. the walk through the tunnel and out to the other side to be met by a lovely warm night, as we drew closer to the RAH the crowds grew larger and larger as the anticipation rose, we found our entrance and made our way to the Hall as we entered I couldn't believe my eyes the place was amazing and our seats were 10yds from Ginger's drum kit!

We were sat where the choir is normally placed at the back of the stage. As the time approached for the concert to start my heart started to beat faster as the lights went low I couldn't believe what I was seeing the 3 of them walked out onto the stage from just below as.
I can't really do a review of what they played as the time flew by but below is a review by Adam Lewis of "SKIDDLE"
Rarely does a rock concert come with such emotional baggage. Its' been 37 years since the three men before me played together in this very venue, the Royal Albert Hall on November 26th 1968. But tonight, Eric Clapton, Jack Bruce and Ginger Baker have put over three decades of hate to one side for the last of four sold-out concerts as the worlds first supergroup' return to London. A generation has passed, both for band and audience fans who may have seen them first time round in the sixties are now grandparents, pension claimers and senior citizens. They have this in common with their heroes on stage.
Clapton, now 60 is the only one of the three who is still as good as he was, but one notices the absence of fire that was in his belly all those years ago. Effortlessly pulling out unbelievable solo, lick, riff after another, he wowed the audience with his distinctive tone and technique. Bruce, at 62 can still sing with as much venom and power as those thirty years his junior, and his bass playing was exceptional, despite having to warm his hands after each song to prevent the onslaught of lingering arthritis. I was most impressed however by Peter Ginger Baker arguably the greatest drummer of all time. At 65, and with severe osteo-arthritis in his back, he dazzled the audience with a fine display of experimental time keeping, signature fills and a 15 minute drum solo in which he mixed a variety of rudiments, grooves and skills, striking his toms with passion and incredible precision.
Never before has a band of this size made the transition from musical pioneers, the cream' of their respective instrumental fields to nostalgic gatekeepers, making a final farewell to their fans in such an enormous, sudden step. Their reward of course was a standing ovation after every number; testament to a group who had a knack for writing consistently popular material, the audience knew every word, and every intricacy of guitar playing that went with it. The on-stage musicianship was a much friendlier affair than speculation suggests no drumsticks were launched at Bruce's head, and they seemed genuinely happy to be side by side. At the announcement of the shows in January, Baker said, At the reunion we'll play music together, but we don't have to talk to each other. I haven't spoken to Jack for years. Cream split up in 1968 because I couldn't stand being in his presence. But the old adversaries grinned in each others direction as they opened with I'm so glad. The second number, Spoonful of loving, featured Clapton's first solo of the evening and set the tone for a performance packed with greatest hits, including Stormy Monday, Sitting on top of the world, White Room, and Politician, where Bruce's vocal excellency was showcased to the highest extreme. The only disappointment of the night was the rather plodded rendition of Crossroads, which lacked the electrifying drama of the original, as featured on their 1967 Wheels of Fire album.
The four shows at their favourite venue sold out within minutes, and despite a face value of £125, they were advertised on the internet for as much as £2000 a go. There were younger members present in the huge audience than I a nod perhaps toward the amazing influential aspects of Cream.
Inevitably, at some times, Cream did sound like a band out of their era many of their lyrics belong in the golden age of flower power, but they also proved that there is no substitute for great musicianship. At a time when tabloids, magazines and media are criticising older musicians for continuing to record and tour, Clapton and co convinced me that there is a place today for yesterday's musicians all they're doing is encouraging and influencing tomorrow's superstars. Nobody can turn back the clock, and Cream, in truth, didn't really try. It was a great thrill to see one of my favourite bands who Id convinced myself Id never see live in concert and greater still that I should be there with my father an original' Cream fan, our interpretations of the show were very much the same, attestation to the fact that three men, armed only with guitar, bass, two amps and a drum kit can still break through generation barriers with dazzling music.
I've been to hundreds of gigs, but this was absolutely the best. Remarkably, the chemistry is still there, and it was a pleasure to be a part of it.

Review by: Adam Lewis
I can remember, Badge, Spoonful, White Room ,Politian and of course Gingers 15min drum solo but the rest is a bit of a blur but the feeling still remains some 4 months later, the best gig of my life!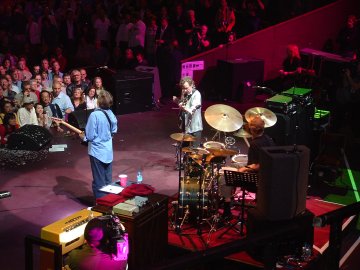 Photo taken from my seat with no zoom!
Jan thanks. (best sis-in-law in the world)
email me : email mike

page last edited 23.08.05
© Mike Berridge 2005 - 2017