---
February 2006
---
Tuesday 7th Middle Trent
"A window of opportunity".
A call to Mike Oz at the weekend asking him if he fancied a day on the Trent, the river temp had risen a couple of oC over the last 2 days, but by Wednesday the temp was dropping dramatically. Saw me Tuesday lunchtime pulling into the pub car park looking forward to a pint of real ale and a nice lunch only to find they had shut it and were completeley redesigning the interior! Mike duly turned up and we headed for the river, we had a walk down the fishery, Mike couldn't believe how "nice" it looked even in the middle of winter after the December floods.
The river temp a "balmy" 7oC and the air temp a warm 10oC, not bad for the middle February. We settled into adjacent pegs, a 2 rod set up for me (pellet/boilie) and Mike "loaning" my GTI. Mark and Steve had arrived and went down river to fish (looks like everyone knew about the "window of oppourtunity") Tony turned up and decided on the long walk to the end of the fishery, Mark and Steve both had some nice chub, Mike did miss a bite when he struck to early but was rudely awoken when a large branch fell out of the adjacent tree nearly hitting him and frightened the proverbial **** out of him.
Tony had been at work all day so I walked down for a chat with him clutching a welcome cuppa and a sarnie, he had had a nice chub over 5 and was getting taps and rattles all the time, he ended the session with 5 chub including 3-5's, my tips had remained motionless......
Mike came and had a warming drink and we chatted about his new job with the Barbel Society, "Head Ballif" he had been down on the Teme and Severn at the weekend but it was all work and no play.
Well the night was drawing on and it looked like the this would be my 1st blank on the Trent for over a year, all the others had gone, Mike to his son's house in Louth and not the long drive home to the Solway he had expected.
As I listened to the "footy" (Birminham City FA Cup replay) the weather was awful their, wind (which we had too) and rain sheeting down, I contemplated packing up but the rain started and I decided on another hour under my newly "skinned" AQUA brolly. Glad I did, at 9.15, the tip wrapped round and I was connected to a very angry barbel that decided it didn't want to come to my net, after a storming fight, she lay resting in the net a very large barbel. A preliminary weigh showed she was just short of 12lbs so after resting and unhooking she posed for me very nicely (more than can be said for your truly)
The final weigh was 11lbs 13ozs and a very welcome February fish!

Think that will be it for this month,
Sue is back from her holiday in South Africa next week (it's ok for some) so I will have to get my head down and do some work but you never know?
Tuesday 14th Middle Trent
The "Return of the Wharfe Raider"
The river temp had been slowly rising over the past few days with the prospects looking the best on Tuesday and Wednesday with some warm SWesterley rain, now even though Tuesday was Valentines Day and Sue had only just come back from 2 weeks in South Africa on holiday, Tuesday it was!
A quick call to Kev on Monday evening ensured he took his gear with him to work to have quick getaway and down by the river early afternoon, I was delayed with work so it was 3pm by the time I arrived, Hugh was already fishing,Tony had come down and was on the phone to Faye (Wharfe Raider) to convince her too come (don't think he wanted her on her own her own today!) or maybe to save him having to leave early.
I sat and talked to Hugh for a while, it was the 1st time I had seen him in a month, no change though he was still "blanking". He did manage to winkle out a lovely 6lber but put it back before I could get their with the camera. The rain had started to fall as he was packing up, this resulted in a nice slide down the bank towards the river with all his gear, it didn't do his already "bad back" any favours though but a quick call to his wife Shirley to make sure the water was hot for a long soak when he got home.
Kev was soon into barbel a sprightly 6lber, his 1st fish for a month,

he also saw his 1st "goosander" and his 1st wild "parakeet"! ending the day with 9 the biggest 8lbs+, I think he went home a very happy angler.
Tony had stated off well with a couple of barbel to 8lbs and a couple of chub he ended the day with 5 the biggest a cracking 9lbs 9ozs.
Faye arrived soon after Hugh had left and plonked herself in his vacated swim.
I had set up above all the others with the usual 2 rod set up, boile on one but this time the downstream rod baited with lobbies, the river had risen a couple of feet in the last 24 hours but there was still no colour at all, even the chub wern't interested in my bait so after an hour the worms came off and the pellet went on. The tips remained motionless as Kev and Tony proceeded to empty the river. Kev came for a cuppa and as we chatted he told me about his new trailer to take his "Lotus 7" round to different trials meets around the country, think a day out will be forthcoming soon.
Tony and Faye came for a cuppa we chatted about Fayes new job, she is a primary school teacher now and it looks like she has found her vocation, I also told her if she caught one tonight I wanted a photo, as the only one I had was a very old one of her PB at 8lbs 10ozs . The time was dragging on now and as they returned to their swims I contemplated what was looking like my 1st blank on the Trent this season.
At 8.30 a quick call from Tony saying Faye had caught a good barbel saw me reeling in and off down the bank, camera and scales in hand. As I arrived Tony was resting the fish in the landing net, a quick look and I could see as I unhooked it for her it was a "big" fish. As Tony weighed her his "Avons" went round and round and round finally settling at 11lbs 10ozs Faye was shaking by now and not sure if she could hold the fish but the photos where taken and her new birthday present "The Hat" and her new Personal Best looked very nice indeed.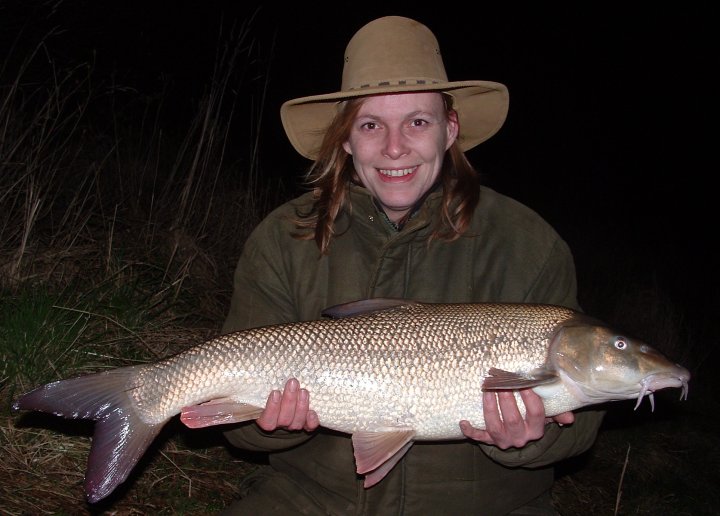 She packed up straightaway not casting in again ,I think their drive home was a very happy one.
By 10pm I had the river to myself, I contemplated packing up but decided on another hour when 30 mins later the tip on my GTX slammed over and I was into a very heavy fish that gave a 1st class account of itself in the extra flow.
The fish was soon rested, I could tell it was near the double mark and a quick weigh saw her at 10lbs 3ozs another succesfull night and my 5th double this year!

Total for February
2 barbel (2 doubles.)
email me : email mike

page last edited 21.6.06
© Mike Berridge 2005 - 2017