---
July 2005
---
1st. Middle Trent.

Decided on my last weekend trip for while (have to work now!)
I arrived at 9pm,, Brian was down (he works abroad) it was good to see him after 12mths and we chatted for an hour before I even thought of setting up, he had 3 fish while we talked. I had decided to fish a peg upstream of him and put 6 "balls" in, then setting up my tackle and getting comfortable for a long session ( I had decided to stay till Sunday)
My 1st cast at 11.15 produced a bite straight away to the usual "pellet" and a lovely looking 3lber was quickly returned. 2 more anglers were fishing upstream of us , both Matt and his guest Adam were catching well. Another fish at 12.30 was a shade larger at 4lbs but all the guys were catching smaller fish than in the last week. As dawn broke I had another that must have been on steroids! it was without doubt the hardest fight I have had from a barbel, it was all over the river looking to get into a snag and when finally netted she tipped the scales at 8lb 3ozs.
I had decided to bring a bed chair this weekend after 3 overnighters was taking it's toll on my back! so a few hours of well deserved sleep were called for. When I awoke Matt and Adam were both packed ready to leave, Matt had had 5 fish and Adam a well deserved 8.
Brian and I had a well deserved cuppa (his 4th since I arrived) mainly because when he got out his stove, the pressure washer had perished and he couldn't prime his petrol stove, (thats' what you get for 12months in storage).Another small fish followd this one a pristine barbel of no more than a pound. I took it quickly to the next peg where Hugh was, just to show him what one looked like! (sorry Hugh). Brian decided that by 1o'clock after putting back 8 barbel the smallest a lovely 8ozs and a couple of chub he had had enough,as he packed up Tony and Mark came down.
Cuppa's all round again!
I had struggled to catch during the day and with Chris my usual companion arriving at 7pm (after spending most of the day demolishing a large outhouse) we chatted for quiet a while before he finally settled upstream of me. My next fish came at 11.30pm a lovely looking 3lber,,just after Mark asked me to weigh one for him and this turned out to be the biggest fish of the weekend at 9lbs, it had a large "strawberry" type growth on one side of its mouth but swam off strongly no "worse for wear". Tony and Mark both caught more fish before they left in the early hours.
Chris decided on a move which paid off as he had 2 fish with an hour, that put a smile back on his face. He had asked previously if he could "kip" on my bed so with his "pillow" he got his head down at about 4am.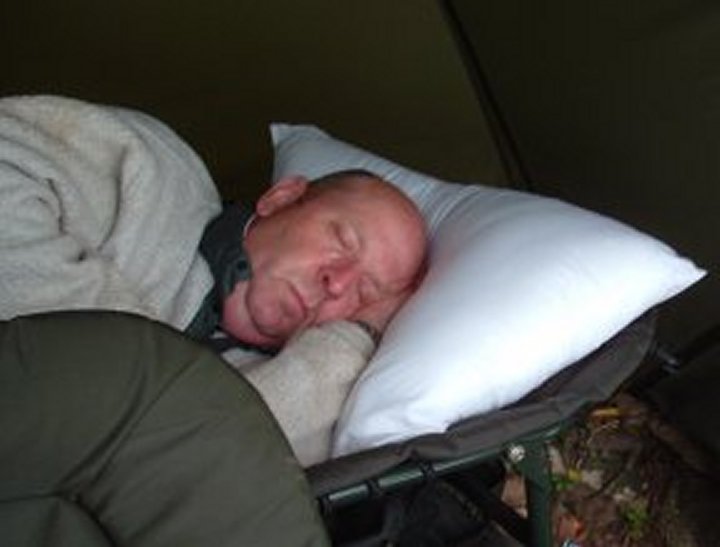 "Sleeping Beauty"
My god! he does snore (Maria you have my sympathy!)
We both packed up around 10 am, I had had 7 barbel, a couple of chub to just short of 5lbs and the obligatory bream, Chris never added to his total and we departed to our respective homes to look forward to our next encounter with the barbel.
A hastily arranged trip saw me on the bank at 2.00pm, no one else was down so the pick of the full stretch was mine, I settled for the peg that produced my PB last season. I had decided on the same approch as last weekend and proceeded to "fill it in" 10 balls out at 20 yds and plenty of mixed pellets down the inside. It took me well over an hour before I actually cast in and a shady spot under the trees was most welcoming in the heat of the afternoon sun (96oF).
Brian had arrived with tails of a visit to Angelesy "twitching" and a look at a "sooty tern" (1st time since early 90's apparently!) then a quick blast upto the Lake District to see a butterfly (whose name I couldn't even begin to pronounce) and back home in the early hours, no wonder he didn't turn up till late afternoon!
A slow start with no action for a couple of hours and then the chublets started 8oz fish determined to have their fill of my pellet baits,the swallows were active all day catching flies and dipping in the river, the robin came down for a look and a feed on more than one accasion. The river had fished well towards the later part of the week with the rain we had had and the weekend anglers had caught well, with young Tom S having his 2nd double of the season.
At 9.00pm the "filled in swim" rod arched over and a spirited fight ended with a 3lber in the net, this was followed swiftly by its brother, then a beautifully conditioned chub of around 4 lbs was put back. All went quiet then, the action being in the peg upstream where Steve was connected to one of the resident commons this one weighed just short of 11lbs and after a cracking fight it was returned to fight another day. The darkness had fallen by the time my next bite arrived and the downstream rod pulled down and then shot off as a fish took a liking to the "kebabed boilie" a quick dive towards the snag was thwarted and the fish turned and ploughed upstream (always a sign of a "good" fish) after less than 5mins she was in the net but immediately turned on her side and couldn't right herself,as the fish lay in the net she looked every inch a good double, I kept righting her but it was fully 15 mins before I was able to remove the hook. When weighed she was 9lbs 13ozs, the rest had done her good for when I slipped her back in the river one flick of her tail and she was gone. Another small male came to the boilie and a lost fish, which I think was foulhooked and I packed up, at just past 1.00am I set off for the long drive home.
My next session on Sunday will be a "party" affair with some friends coming from different parts of the country so more a meeting of "great minds" than a fishing session.
Most of our mates were down on the BS Wye "fish in" and after talking to Chris and Tony the fishing had been very hard due to the low levels and bright sunshine.
We found the same when we arrived on the river with 3 guests, the river lower than I had seen it for a few seasons, probably about 18in to 2ft below the normal level. We walked the fishery showing it too our guests,then they decided where to fish and I dropped in at the top peg. It had been a slow afternoon with temperatures in the 90's and very little breeze, Paul4 had set up in the shade of a willow tree and as we talked with Neil over a cuppa, his pin gave the familiar clic as a fish moved off with the bait, as the rod arched over Paul nearly ended up in the river and as Neil and I stood back finishing our tea we watched the master at work, a couple of minutes later a barbel of about 7lbs lay in the net.The tea had long since been spilt everywhere!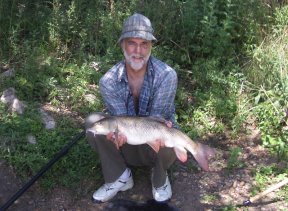 he's still not holding 'em right though but he is getting better!
The afternoon wore on, "hot and sweaty", Neil had his 1st trent barbel a little beauty of about 1lb and followed it up after a move in the evening with 3 more to just over 6lbs, with 4 chub topped off by the obligatory bream.
Paul (scouser) had tried his hardest but the conditions were against him as he had to leave just after 5pm, so with a blank to take back to "Knotty Ash" and all his diddy mates.
Hugh (The Vicar) had strolled down after what he said was a very "heavy" day, so we expected some devine intervention from his "boss" as the evening drew on, we did all have barbel but it was very slow, the majority of the barbel moving up into the oxygenated water of the weir pool away from our baits.
Brian had popped down for his last session before his "birding" trip to Brazil, he bagged a couple but the weather was against us and even after dark they still didn't want to play so just after midnight we packed up and said our farewells as we went our different ways.
Beth and I ventured out to the river for her 1st session of the season (she doesn't like cold weather) still not having christened her GTI ( a birthday present from Roger last December!) a warm day was forecast and as we set up the gear the river was carrying about 18in of extra water with just a touch of colour, so our hopes were high. Hugh had been down all day but he had struggled not having to wet his net. The next 6 hrs turned out to be real grueller, Hugh had departed with a well deserved blank,Steve had arrived and promptly sneaked out a 9+ fish with his 1st cast!. Beth deep into the new Harry Potter book only disturbed by Steve's dog "PIPPA" coming round to be fed!

Steve came over and brought me some of the new BFW "wakas" to try and after about an hour the tip actually moved on my rod (and it wasn't weed!) after a short but spirited fight a lovely 4lb+ barbel lay in the net and on the new bait!. 20 mins later Beths rod arched over and another 4lb fish was soon beaten on her birthday present.These "wakas" really seemed to be working when at 23.30 my tip dipped again and a heavy fight ensued as Beth netted a cracking fish which tipped the scales at 10lbs 2ozs

a very slender fish almost empty, that in a few more months time would be a lot heavier. We departed at 12.30am Beth sleeping all the way home.and me thinking of our holiday which starts on monday. (10 days on a boat on the RIVER TRENT!)

5.2litre V8, Bayliner2455, top speed 40 knots+! look out for us and give us a wave if you can spot me as we zoom by!!! nearly forgot Jasper in his new life jacket.

Total for July
14 barbel (1 double)
email me : email mike

page last edited 21.6.06
© Mike Berridge 2005 - 2017