---
June 2005
---
15/16th
Middle Trent.
My 1st trip of the season was to the Trent, on June 15th after arriving in plenty of time (at least 8 hours to spare!) we chatted with a few other regular anglers, then Tom and I proceeded to set up our peg (we always fish together (not sure for how much longer though!) We all enjoyed a great BBQ and a nice bottle of "red" to see in the new season and a most enjoyable evening with "good" friends.
12pm midnight and the "rocket" went up (did anyone else see it?) the baits went in, Tom had a take straight away which resulted in new personal best chub for him of 5lbs 6ozs. My pellets had had an enquiry straight from the off and the tip of my 4-piece showed signs of a fish picking up the bait and roaring off downstream, the rod arched over and a very angry fish decided that she was having none of it and with the fish going upstream at a good rate of knots (always a sign from a big barbel) I played the fish to Toms waiting net and the 1st barbel of the season was taken. Time 12.10pm, what a start! As we let the fish rest, we both admired its beauty and pristine condition, (the trent barbel had spawned 2 weeks previous) I removed the hook and thought the fish looked a possible double, we weighed her and I still wasn't sure as I couldn't remember the weight of the sling but after deduction she came in at 10lbs 6ozs. What a start to the season my 1st fish, a double and it was still only 12.15pm.
My 1st 2005 fish 10lbs 6ozs
I had another 2 barbel in the next 40 minutes, then later a couple of chub about 4lbs+ and a bream about 6/7lbs. Tom carried on catching chub and ended with 4 including another 5lber, he also had 3 barbel, his biggest took the scales to 7lbs 6ozs, so he ended the session a happy bunny.

Jasper making sure we put her back gently. 18/19th Middle Trent. After a few bad days, what with breaking down in the car on the way home on Friday morning (looks like it maybe expensive). I decided to fish saturday into sunday, now it's not very often I fish a weekend (work always seems to get in the way) one of my mates was still there but struggling a bit. I left after the final Doctor Who episode (decided Chris Eccleston had been a good doctor) and I arrived at the Trent at 10pm, the level had dropped again and the water temp had risen to 20oc. As I walked up Eddie was playing a fish (this looks good I thought) boy was I wrong!. I netted a cracking 8lber for him and then took a peg down stream, then he said it had been a slow couple of days since I left and that was his 1st fish for at least 24 hours.I decided on a 2 rod approach (as it had been quiet), 1 rod with method feeder with paste wrapped boilie and the other open ended feeder with pellet hookbait, I struggled to get a bite just small taps but nothing to "hit" and definiteley no "wrap rounds". At 1am I was rewarded (if thats the right word) with a 6lb bream (I gave it the "early release" before it had chance to get in the landing net), Eddie struggled too with no activity for either of us, so after staying awake all night a "kip" was called for,so after reeling in I had a couple of hours dozing in the chair. I awoke to the sun blazing down and a temp of 80oF and it was only 8.30am! A "fry up" and a cuppa and all was set to go, rods rebaited and cast out, then just a matter of waiting for the barbel to come along................................and waiting...........................and waiting. The afternoon temperature soared to a baking 98oF (glad I bought a very large "aqua" brolly) I did end up with sun burnt lower legs though. Heavy thunderstorms were predicted for the late afternoon and evening so the brolly would do more than just shade me from the sun! Eddie decided to do a bit of "trotting" and an obliging roach took his bait, this was then taken by a large perch which decided it was a bit peckish" the perch inturn ended up as a pikes' lunch and would not let go and all 3 of the fish ended up in the landing net! A couple of other friends came down in the afternoon. but they struggled too. Then just after 6.pm things started to happen, fish started crashing all over and a few came out, Keith had a 3 barbel and a couple of chevins but Hugh struggled to record his 2nd blank of the season. Steve came down for his 1st session of the season and promptly battered us all taking 6 fish to 9lbs+ between 9.pm amd 1.am. I did sneak one out a little beauty of 3lbs just before the death..I packed up at 10pm at least not blanking! The predicted thunderstorms didn't arrive but we were surrounded by electrical storms all evening. While driving home I heard of the devastation in North Yorkshire at Hemsley and Thirsk, my thoughts going back to my days on the Swale around that area (must have a session up there this season).....21st/22ndMiddle Trent.I had planned to be on the bank by early evening but some astute delegating and I arrived mid-afternoon, the river temperature had risen again (22.5oc) but the air temp had dropped slightly after Sundays sweltering high, Only 1 angler was down and we chatted for 1/2 hour before I set up 60 yds upstream in a peg that produced some great fish last season. 30 mins after my 1st cast and the tip was bouncing about and a cracking roach of just over 1lb had taken a liking to the 3 elips pellets!. Things went drastically downhill after that, the only activity all evening was trying to get a photo of a cock chaffinch that I had seen on my last 2 trips, it took me a while but after at least 20 attempts I came up with this photo,the hen bird was also about but was a lot more shy than her mate, maybe her turn next time.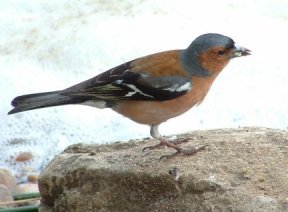 I had tried everything I could to get a bite but to no avail, until at 10.30 when the tip wrapped round and a storming fight ended with an 8lb fish in the net, the barbel looked absolutely pristine, not a mark on it, every fin perfect and the fish looked like it had never been hooked. A chub of 4 lbs was also landed so the drive home wasn't to bad. 24th/25thMiddle Trent.A phone call from Chris asking if I wanted to do an overnighter with him on the Trent was all I needed, so setting off at 6pm I arrived to find 2 more mates down, then talking coupled with a nice cuppa some more chat, it was 10pm by the time I had cast in (maybe I am turning into "eelfisher"!).Chris and I fished adjacent pegs (me downstream) but he still insisted on me having a "walkie talkie". I couldn't buy a bite but he seemed to be getting taps all the time and after he had had a couple of 6's I was totally teed off. Then a typical "wrap round" resulted in me connected to a "missile" but the fight didn't seem quite right and after a few minutes I could see why Chris' line had strayed downsteam (or was it mine straying upstream!) and they were tangled together. As I raised the rod I could see a feeder with hooklength attached hanging in mid air (thinking it was mine) I said the fish was his and put my rod back on the rest and went round to net his fish. He was in a right "2 and 8" with line and feeders, all tangled up and the fish still in the water trying to make its bid for freedom, Chris had the rod and the "tangle" so I ended up playing the fish (without a rod) into the waiting landing net, upon closer inspection it was my hook in its mouth! (now does this count as my fish?) We enjoyed a great night with no more fish to my rod, but Chris ended the night with 9 barbel, the biggest going nearly 9lbs, before his departure at 10am to meet with his wife Maria to do the weekly shop at Tescos. I stayed on all day into the evening and as the river rose 18in (thats a lot of water on the Trent!) I still struggled and ended the day with a small chevin. The cock chaffinch was constantly at my side all day (the amount of hemp it put away was unbelievable) but no sign of his companion today? Ah well you cant catch every time. June 27th Teme.A hastily arranged trip to the river Teme with Tony2, saw us on the road to Worcester at 05.30, thinking a 3 hr drive to Allens tackle shop for day tickets and to restock my tackle box and on the bank by 09.00. At 08.30, we were still held up in traffic on the M42, finally arriving at 09.45 and on the bank at the St Johns stretch by 10.30. The 1st time I had been to this stretch and it looked very inviting and a good chance to break my Teme duck,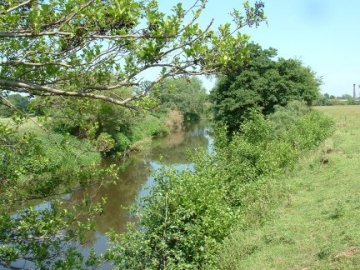 Tony said he had never blanked here, (if that's not the kiss of death then I don't know what is?)I decided on a put some bait in and try and tempt them out of the snag (T West) approach, So after feeding a few pellets into 3 likely looking swims, I sat back in the boiling hot sun and waited, I had my 1st cast after about an hour (straight into the tree on the far bank!) so I left that swim alone for a while! My next cast to the 2nd swim was much better and maybe 5/6ft outside the snag but at least this time it was in the water!, within 2 mins the rod arched over as a "Teme Tiger" had taken a liking to the 2 elips pellets on offer (good lad that "westie") I put pressure on the fish to steer it away from the snag and it came to mid river (thought to my self I have you now) then she decided its home among the roots was a much safer bet, as it turned to go back, I applied side strain and the hook pulled ( I never swore very much). That was the 1st time I had connected with a Teme barbel. so I sat back contemplated the loss and had a cast to the 3rd swim. Well things went from bad to worse and neither of us had another touch all day and evening. the sun beat down constantly all day the temp reaching 95oF in the afternoon.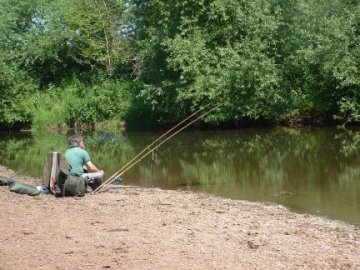 Tony did find out that his insect repellent worked though, as it exterminated everything within 5yds when he sprayed it on.The day was fast coming to a close when after Tony had retreated into the trees to try his luck,I was visited by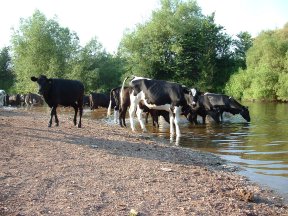 this lot down for their evening drink!Ah well the Teme barbel will have to wait a little longer, the drive home was no where near as traumatic as our earlier one.
June 28thMiddle Trent
After yesterdays disappointment on the Teme, I needed to catch a barbel so a hastily made phone call to Nick to see if was back from his hols and he could sneak out and we met on the middle Trent in the late afternoon. The weather forecast had said thunderstorms late evening in the south and next day in the north (or so I thought!). As I was in a rush I picked up most of the same gear from yesterday including a small umbrella? oh! was I to regret that one.Hugh was down when we both arrived and had already set up (he is still awaiting his 1st barbel from this stretch).We selected swims and settled in to what would hopefully be a productive evenings fishing. I had decided on a "fill it in" approach and 10 "jaffas" went in at about 20yds straight in front and 4 down to my left. Nick had similar ideas so we sat and let the swims settle over a chat and a cuppa. After an hour or so we had our 1st casts, small taps on the rods were a good sign that something had moved over the bait so I sat back and waited for the inevitable rod pull,it came after 30 mins with a small chub. I put 4 more balls in and rested the swim again. We could hear the sound of distant thunder, how far away we weren't sure (but Nick went to get his brolly from car just incase) I contemplated my "Aqua" brolly dry and warm in the garage! The lightening started just after Hugh left us (I think he had had devine intervention?) it was still a long way off and our skies were still fairly clear. Oh! were we in for a shock, the storm came on us in a flash and at 22.30 the skies opened up, the rain bouncing off anything it landed on including me and all my gear, you can't get much under a 45in (15yr old) brolly that leaks like a sieve at the merest hint of water. As soon as the "monsoon" started the fish started to go wild and a bream approaching 8lb was returned, followed by a cracking barbel of 8 1/2lbs, things were looking up as Nick too was catching, another 6lb barbel followed soon after. Nick saw a lull in the weather and decided retreat was the better part of valour and go before the heavy stuff came in ( he is from the south though). I decided to stay and after a hook pull and a smash off, I packed up in very heavy rain thinking of the "Aqua".
Total for June 8 barbel (1 double)
email me : email mike

page last edited 21.6.06
© Mike Berridge 2005 - 2017