---
Jasper and Friends
---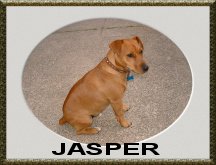 I have been with the Mike and Sue over 4 years now, so I think that makes me over 5 years old (not sure when my birthday is!) they got me from the RSPCA, I didn't like it in there, couldn't keep any food down and all those other noisy dogs I couldn't get a minutes rest.
I have settled in well here in my new home apart from the cat (blackie) he has very sharp claws and for an "old fella" he is still very agile, I do get the odd nip in "now and then" when he is walking away from me. He never finishes his food so I always clear up after him mmmmmmmmmmm!
I am very inquisitive being a Jack Russel ( X Staffordshire Bull Terrier) so I am always into stuff where ever I am, clic

to see me in action?
I love water and am always in the river having a swim.

I love going fishing with Mike but usually spend most of my time on the look out for anything that moves

chasing the rats is a good pastime but I have to be careful but one bite at the back of the neck and they are done for! I love it when mike catches a fish as I try and leap in the water to stop it getting away, I like the chub best as they are fat and lazy, the barbel are another thing all together so I like to see them go back nice and gently

I did have a mishap last year when I swallowed a piece of meat I found on the river bank (it had a size 6 hook in it!) off to the vets and an £80 bill for Mike and Sue , I must be more careful next time!
Anyway thats enough about me for now, come back and have a look another time when I will tell you of my adventures when we go "Fly Fishing" (never seen him catch any but there is a lot of swishing going on!).
Oh! and I will tell you about my mate "Storm" the "Staffy".
You're back then! now about my mate "Storm" he is a pedigree Staffy, his dad Steve breeds them see here and he is the "stud" dog, nice work when you can get it!
My best mate "Storm"
We often go fishing together but he doesn't like swimming or chasing the fish (wierd that), in fact he wont go near the water, he just lies in the bivvy and sleeps (maybe dreaming about his "day" job) no good me thinking about that though, my "stud days went a long time ago" (bloody RSPCA!) We do have some good times though when he feels like it, when I can get him out of the bivvy, he does enjoy the walk along the bank and jumping in the long grass.
I went fishing with Mike earlier in the week and a few of his mates, they are a friendly lot, especially that Chris, he must have dogs himself. He caught a lot of barbel too.
"ello" not been on for a while, but apparantly we are going on holiday next week, I think we are going somewhere where there is water cos Mike bought me this the other week as you can see from my expression I am not impressed,as most of you know I am a very good swimmer so why he got this I DO NOT KNOW!

Ah! well it will be fun as Beth,Tom and Nat are coming too, see you all in 2 weeks.
page last edited 29.07.05.
© Mike Berridge 2005 - 2017